A 2021 portrait of the Australian art market - despite COVID
Learn about events, happenings and more
2021 portrait of Australian art market - despite COVID
Friday, 06 August 2021 | Caroline Jones

Despite the many challenges presented by the continuing COVID pandemic, the art market in Australia continues to flourish with strong auction results across all genres.
We've seen strong results achieved halfway through this year, from the early twentieth century to contemporary artworks. The wave of strong results follows from 2020, a year of unprecedented social and economic upheaval that saw surprising patterns of consumer behaviours emerging, brought on by COVID restrictions and lockdowns.
More disposable income for online spending
We've seen a surge in disposable income spent on domestic improvements in Australia as money is redirected from overseas holidays and 'experience spending'. With the continuing lockdowns across Australia and the shift to working from home, sales of art and furniture have soared as consumers seek to improve and update their homes.

According to research undertaken by KPMG, four key trend factors are influencing these new consumer behaviours and decision-making criteria. They are; economic impact, erosion of trust, the rise of digital, and the transition of our homes becoming our new hubs.
A significant factor in these changing spending habits is the online shift. Contactless transactions have become the new normal. The traditional in-room auction model has almost become a thing of the past as COVID forces auction sales online.
ALLBIDS has been on the front foot during the pandemic, with a well-established online-only operating model already in place. Locally, consumers have embraced the changes, and sales have been strong across all categories.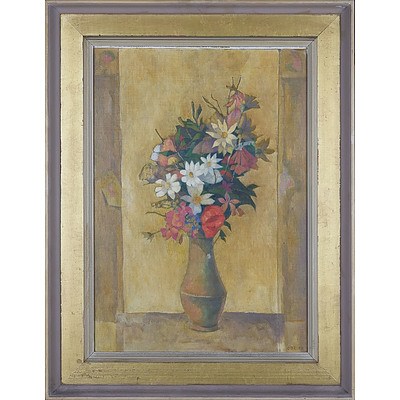 1965 oil on board by Justin O'Brien sold for $20,000 + BP
Videos are becoming more and more popular
Until recently, online auctions have not been the first choice for vendors of high-value artworks due to the lack of in-person viewing opportunities. The closure of auction rooms during lockdowns has brought on the need for improved photography and online presentation of artworks and other high-value items.
The increased use of videos and virtual tours have allowed buyers to inspect items through high-resolution images and Zoom tours. ALLBIDS has increased the number of online videos, highlighting forthcoming auctions and including unique content from specialists. Sharing information through videos is an effective way to provide personal insights from specialists with customers, in short, concise bites.
Looking at how the art market has performed in Australia, the results have been highly diverse across all categories.
Looking at figures supplied by the Australian Art Sales Index, we can see that the total number of artworks offered at auction is below pre-pandemic years due to the hesitancy of vendors to let go of treasures items during uncertain times.
What we can also see from these figures is that the average price per item is up slightly. This reflects the confidence of buyers to participate in auctions and buyers paying premium prices for quality artworks.
Growing demand for artworks by female artists
An emerging trend that has dominated the art market over the past 18 months, both globally and locally, is the rise of female artists.
The major auction houses in Europe and North America are actively pursuing artworks by female artists to include in their significant sales due to the collector-driven demand. Locally, the same demand is playing out across auction rooms. Collectors are willing to pay a premium for rare, unique examples of female artists' work. In the first half of 2021, there were 17 new high prices set for female artists; however, only one female artist appeared in this year's top 10 highest prices




David Boyd (1924-2011), The Net (from The Garden in the Wilderness) 1973, Oil on Canvas


Artwork sales remain strong amid COVID
The art department at ALLBIDS has recently seen some of our most robust sales. Below are some great examples by well-established artists.
A beautiful 1965 oil on board by Justin O'Brien sold for $20,000 + BP; two early David Boyd paintings sold for $14,717 and $14,227 + BP, respectively.
Results for Pro Hart artworks have remained strong, with higher-than-average prices achieved.
Australian and international artists' prices for low-edition number prints and multiples have also realised solid prices. Picasso's Poster for World Congress for General Disarmament and Peace 1962 recently sold for $3290 + BP. Additionally, Salvador Dali's L'Homme Invisible selling for $2,020 + BP.
Limited edition prints by Australian artists are also achieving great results by John Coburn, Arthur Boyd, John Olsen, Sidney Nolan, Fred Williams, and Brett Whiteley.
What to expect next?
With another five months of 2021 still to go, we can expect more surprises as the unprecedented COVID-driven market continues to roll on. With lockdowns continuing, we anticipate more buyer activity online as spending is directed towards improving and updating our homes.

If you have quality artworks you are considering selling, please contact Caroline Jones at caroline@allbids.com.au for an obligation free appraisal, or visit our sellers' dedicated page on our website.