Front Porch Decorating Ideas You'll Want to Try This Summer
Learn about events, happenings and more
Front Porch Decorating Ideas You'll Want to Try This Summer
Friday, 02 November 2018 | Hariestu W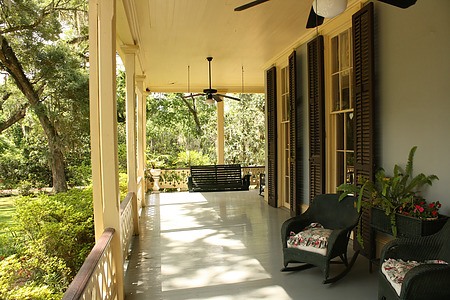 By this time, you've probably already shed those winter coats, but has your house embraced spring yet? If you haven't, one of the best places to start is the front porch - it's one of the first things people see when passing by. To help in your efforts to spruce up, here are a few front porch decorating ideas that should be perfect for the season.
Repaint your front door
Having an eye-catching front door says a lot about your home and about you. An effective way to make your front door pop visually - and help improve its kerb appeal - is by giving it a fresh coat of paint.
The colour is entirely up to you. If you want a timeless look, go for neutral tones like white, beige or grey (black might even increase your property's value). For something more vivid, try a bright and glossy hue (e.g. yellow, red) that contrasts with your walls, provided that your colour choice doesn't clash with what's already there.
For more options, you can check out our paint line-up.
Add foliage
Springtime is a great season to add and grow plants, especially around your front porch. In fact, having more greenery is perhaps the easiest yet most impactful way to decorate the area (without straining your budget). That's because house plants can:
Most plants go well with all manner of porch themes and designs. Just see to it that your choice fits the amount of space you have. If you have enough room, try adding some monster deliciosa, various ferns or fiddle-leaf figs. For small porches, consider how Zanzibar gems, orchids or peace lilies would look.
Note: Indoor plants typically don't do well when under direct sunlight for long periods. Watch out when their leaves turn brown or suddenly fall off. If your porch gets a lot of sun (or if your green thumb is still developing), you may opt for tougher shrubberies like philodendrons or aloe plants.
Here are a couple more front porch ideas.
If you have railings at your home's entry area, you can plant creeper and/or climber plants such as purple coral peas, hybrid tea roses or ivy leaf geraniums.
Plant flora that repel mosquitoes (e.g. cotton lavender, wormwood or tansy) to keep the bugs off you when you relax on the porch.
Use different types of planters
Don't limit yourself to pots when decorating. Try using different types of planters like hanging baskets, woven flower baskets, planter boxes, terraria (sealed transparent containers), succulent bowls, wall baskets and window sill plant shelves, among others. We have a variety of planters you can have a look at.
Tip: Choose bold colours for your planters. This will grab attention even from the street.
If you're feeling adventurous, you can make your own planter steps (like this one and this one). Just take note that at the very least, you'll need proper tools like a saw and screwdriver, tape measure, some timber and screws (explore our hardware section for more options).
Install new lights
How much illumination do you have on your front porch? For a dramatic refresh, try installing additional lights there. Note, however, that your choice of lighting should depend on what's already there. For instance:
If you have porch posts, put in a pair of lanterns. Remember to pick a design that matches your home's theme.
For porch footpaths, try recessed low-voltage step lights to help prevent falls when people walk to your front door.
Tip: Consider adding motion-sensing lights near your front door to make it easier for you to search for keys. This will also tell you when someone's at your porch even before they ring the doorbell.
For more choices, have a gander at our lighting selection and other outdoor equipment.
Replace the door handles
Give your porch and front door more character by replacing your external door handle/s with a new one. Make sure that you also consider several important factors such as:
The design. Is it a knob or handle?
Its security and lock type.
The handle's material. It shouldn't corrode or wear easily.
Appearance. Does it match your door and other porch hardware?
We have a variety of door handles for viewing at our building materials section.
Place a comfy seat near the door
Adding a seat (e.g. a bench, rocking chair or any set of outdoor furniture) to your front porch will give it a sense of welcoming comfort. Besides, you get another place to relax at home - especially during spring. All you need now is a good book and a cup of coffee.
But don't leave the seat bare; it normally isn't very cosy when sat on during long periods. Include matching throw pillows for back and neck support. And pick a colour that goes with the overall hue you're aiming for.
Take note that this might not work if your porch doesn't have some sort of shade like a roof extension, awning or even an adjacent tree. It's not fun sitting in the porch under the glare of the sun or when it's drizzling. And don't forget to bring a can of bug spray if you decide to hang out on the porch, just in case.
For more suitable porch seating options, check out what we currently have.
Let your personality show
There are many other types of spring- or summer-themed décor you can add to your porch to give it more personality. You can hang do-it-yourself ornaments like tassels, embroidery and/or paper lanterns, or even a hammock chair (which you embroidered yourself) to make lazy afternoons even lazier.
If you or any other member of your household is artfully inclined, display your creations on the porch. Moving away from mass-produced, cookie-cutter decoration and making the space yours is what you want to aim for.
More decorating ideas
Need more ideas for your smartening up your front porch? Check out our online auctions for even more possibilities. More importantly, we provide layers of protection on every auction, so you can bid with absolute confidence.
You can also sell your home improvement items through ALLBIDS. Get in touch with us today by giving us a call, messaging us over chat or sending us an email.